hank you Ribbers for coming out West!
Purchase of a $3.00 armband required for entrance to buy food and drink for people 13 years old and older.  The prices vary for each Rib Chef and purchased directly from them.
Aussom Aussie BBQ

– 2016 RibFest winner for Best Ribs and People's Choice
They say Barbecue started in the south and you cant get much more south then "Australia" ! So Aussom Aussie came to compete in the USA and Canada in 1988 to prove that Aussie style BBQ could in fact be a true competitor at the biggest & toughest contests in the world.
Aussom Aussie was convinced by "Billy Bone's" to compete on a regular basis in the USA and Canada along with his wife "Hot Sauce Sharon" and their entire family we soon began running our team with their guidance. Billy Bones is one of the grandfathers of barbecue from Red Keg Michigan, where is that? you may ask, Billy says its half way between Climax and Paradise! If you look on the map you'll soon see he's not lying and you'll realize that he is one of the greatest characters in the industry today. Today he sells more BBQ sauce than anyone could ever imagine & writes for multiple trade magazines, he is often quoted and consulted by industry professionals for his expertise.
So then why BBQ and its real simple there is no standard in BBQ – in fact there is not even a standard way to spell it (BBQ, Barbecue, Bar-b-que, Barbie, Bar-B-Cue) so it should be no surprise that it can be as unique as the places that you can find it. People mostly believe that different regions create different flavors within barbecue and it is often true when you discuss the origins of certain chefs. So its a natural to have Aussom Aussie Australian BBQ company competing and showing just how they do it down under. Paul Hogan got it started way back in the 70's with "throw another shrimp on the Barbie" and since then Paul "Aussom Aussie" Mackay has continued that tradition with "throw another Rib on the Barbie". Now with over 350 awards for Best BBQ in Australia, Canada and the USA under our belts we compete in 10-12 national barbecue cook-off's and or ribfest's to showcase our sauces, seasonings and rubs, which you can add to your backyard recipes.
US Toll Free: 1-(888) RIB-MATE
Phone: +1 (412) 875-5350
www.aussomaussie.com
Johnson's BBQ
Johnson's BBQ, Home of the Thermonuclear Sauce, is well known, not only for their sauces, but also for their rubs and smoking techniques. While owner Dan Johnson won't divulge specific information, he does admit that "our great taste is a result of our tender combination of first-class rubs and hickory wood which permeates the meat in a special way." Johnson's has over 120 national awards to their credit in the last five years.
Past Results: Cheyenne Kiwanis Rib Fest Best Sauce 2008, 2009, 2010.  Results in Reno at the Best in the West Rib Cook off: Best Sauce 2010, 5th 2004, Best Sauce 2000, Best Sauce 1999.
1903 South Military Highway
Chespeake, Virginia 23320
(757) 545-6957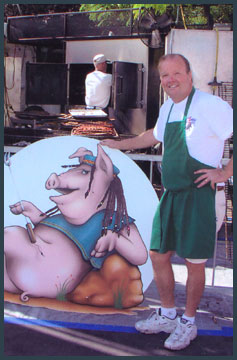 Joe Alexander, better known as "Rasta Joe" because of his unique Jamaican style pork and chicken, has been barbequing for over 30 years. In 1993 Joe turned his passion for barbequing into a National Award Winning business. Considered by many to be one of this country's top BBQ chefs, Rasta Joe continues to win National Rib Cook-Off competitions from Coast to Coast. In fact, winning awards at America's most prestigious BBQ competition, held at John Ascuaga's Nugget Casino in Sparks Nevada, is nothing new for Rasta Joe. This Rib Cook-Off is held every year over Labor Day weekend and plays host to 24 invited rib cookers and over half a million spectators. The Food Channel's recent coverage of this spectacular event was a new and exciting experience for Rasta Joe.
The TV feature aired several times giving viewers the opportunity to see Rasta Joe hard at work preparing his competition ribs for the Judges, and ultimately his appearance center stage accepting a well deserved Award Winning Trophy! As Rasta Joe says, "It doesn't get any better than this in the World of BBQ competition."
13530 6A Road
Plymouth, IN 46563
(574) 935-5851
rasta@rastajoe.com
Please visit the Johnson's BAR-B-QUE web site for their menu and catering info: http://rastajoe.com
Tasty Bones BBQ will be joining as one of the local Cheyenne competitors this year!
Tasty Bones food truck says they provide the best BBQ, the best prices, and the best service. Call them today for any of your catering needs. Let them take care of you while you spend time with your guests having a great time!
(307) 514-9494
www.tastybonesbarbecue.com